Batch 7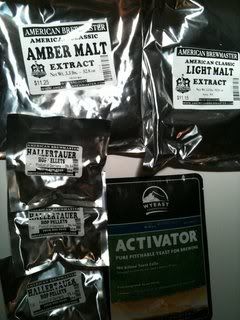 Oktoberfest Ale - 8/8/10
Ingredients
3.3 lb Amber LME
3.3 lb Light LME
0.5 lb Crystal 80L
0.5 lb Munich (8L)
0.5 lb Pale Malt (standard 2-row)
0.25 lb Chocolate Malt (350L)
2.5 oz Hallertau pellets
Wyest 1007 German Ale Yeast
Process
Steeping grains for 35 min.
75 min. boil
1 oz of hops at 60 min.
1 oz of hops at 15 min.
Whirlfloc tab at 15 min.
1 oz of hops at flameout
Fermentation needs to be at 65 degrees, if possible. Primary will be in a bucket w/ 3 ice baths a day and towels to give "wick method" cooling to the top of the bucket.
OG = 1.08
Roused yeast after 6 days.
Bottled 9/22/10
42 bottles
FG 1.015 for a alcohol content of 6.5%
Good beer, but moderately over-carbonated. It was much better if you poured and let it sit for about 5 minutes before drinking.
page revision: 12, last edited: 01 Feb 2011 23:13