Batch #3
American Brown Ale - 3/8/10
Ingredients - Kit from American Brewmaster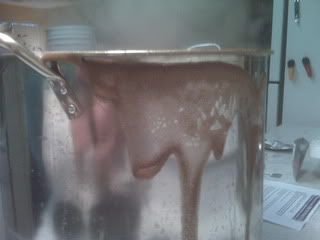 3.3 lbs Light Malt Extract
1.65 lbs Dark Malt Extract
1.65 lbs Amber Malt Extract
Steeping Grains (4 oz Biscuit Malt, 4 oz Chocolate Malt, 4 oz Chrystal 40)
.7 oz Chinook (Bittering - 45 min left)
.3 oz Chinook (Flavor - 15 min left)
.1 oz Cascade (Aroma - 1 min left)
Safale US-05 American ale yeast
Process
Heated to 155 while steeping grains…way hotter than my previous two boils.
Had mini boil-over right at beginning of boil.
OG 1.060 — FG 1.012
Stopped bubbling after a few days…started bubbling again 3/15…interesting.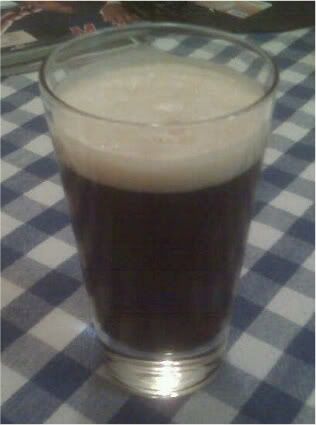 Bottled
3/30/10
I used brown sugar to prime — a pinch more than 2/3 of a cup. Managed to pull 44 bottles out of the batch.
I guess I'm impatient…but I cracked open a sample on 4/10 (11 days after bottling) and that's a GREAT beer. The brown sugar really only comes through in the aroma, but you can definitely recognize it.
Update 5/12/10: FANTASTIC beer. Wow….aging this another month has definitely helped.
page revision: 15, last edited: 13 May 2010 00:02