Batch 11
Toasted India Pale Ale
Brewed 4/23/11
Well, I lost the ingredient list…that was dumb.
This is what the recipe called for, at least:
6 lbs Amber Malt extract
1 lb crystal malt
.5 lb toasted malt (see pic to the right)
2 oz Northern Brewer hops
1 oz Kent Goldings hops
1 pkg liquid ale yeast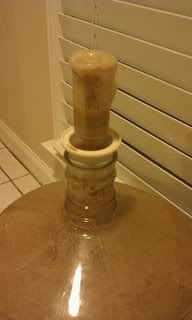 Had my first blowout with the carboy (see left)
Bottled July 3 (almost 2.5 months!)
45 regular bottles & 2 large Red Stripe bottles.
page revision: 6, last edited: 16 Jul 2011 21:15