Batch #1
Irish Red Ale - brewed on 1/30/10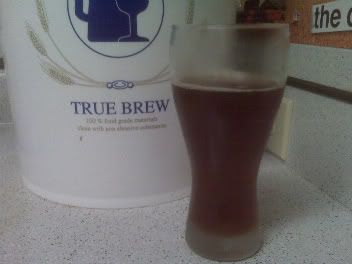 Ingredients - Kit from American Brewmaster
6.6 lbs Amber LME
Steeping grains - 8 oz Crystal 40 L malt & 4 oz Biscuit malt
1 oz Bittering Hops
1 oz Flavoring Hops
Nottingham Ale yeast
Process
Steeping grains: heat at 4
Boil: started on high, let go for the hour at 8
didn't put in as much malt extract as i would have liked — room temp, tough to squeeze out
Primary - 6 days
Secondary - 4 days
OG 1.067
FG 1.01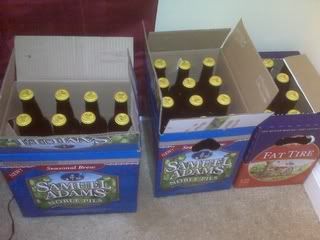 Bottled 2/9/10
Didn't think to make sure that it totalled 5 gallons, so i only ended up with 34 bottles
First bottle sampled 2/16 — Hardly any head. Weak aroma, mild taste, no aftertaste.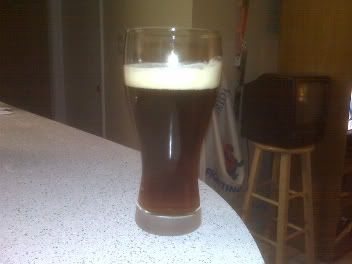 Sampled again 2/27 — Fully carbonated (almost too much). Slight unpleasant soapy taste.
Sampled again 3/2 — Still a little too carbonated, but the soapy taste was completely gone. Nice beer!
3/28 — Other than the 12-pack I set aside for six months down the road, I've only got one bottle left to drink now. This batch tastes great!
page revision: 19, last edited: 28 Mar 2010 18:34